Email Scam Advisory
A review of how spammers misuse Education 2.0 Conference's name to sell fraud attendee lists.
Don't Fall For The Spam Mails Sent By Scammers, Alerts Education 2.0 Conference
While the Education 2.0 Conference was busy prepping for the upcoming editions in the USA and Dubai, we learned that some spammers are trying to defraud people. Yes, some of our attendees shared how they were offered an attendee list through emails where the spammers claimed to be associated with the Education 2.0 Conference. We are equally shocked by this fraudulent activity and want to spread awareness regarding this ongoing scam.
Education 2.0 Conference Team Reviews A Spam Email
To give you a better understanding, you can have a look at the spammy email sample received by one of our attendees.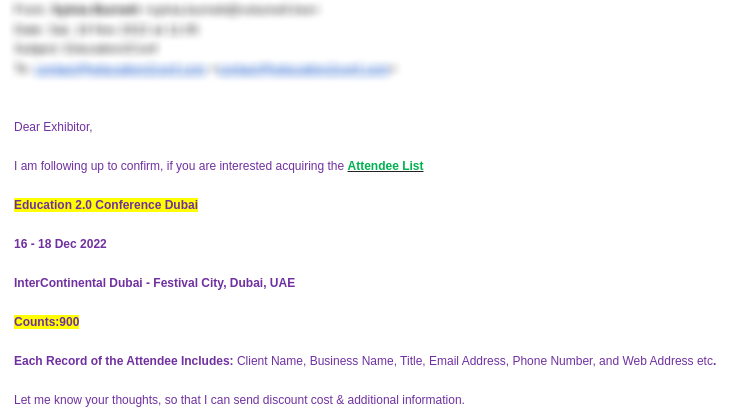 These spammers reached out to attendees asking for money while claiming to offer the event's attendee list. We want you to know that we never give away our attendees' personal and sensitive data, such as phone numbers to anyone. We respect personal boundaries, abide by the rules and regulations, and walk the extra mile to ensure that all our attendees feel safe.
Naturally, this is an alarming situation for us, as we work toward bringing the changemakers of the industry together to revamp the education and learning space. We want everyone to feel secure in the knowledge that their data is safe with us. This is why the Education 2.0 Conference's team has come up with some warning signs to help you differentiate between spam and genuine emails.
The foremost thing to look out for in an email are spelling or grammatical mistakes. Spammers usually give little attention to these small details and this can help you identify the scam, according to the special team at the Education 2.0 Conference. Also, refrain from clicking on any attachments that come with suspicious, unsolicited emails. These can have viruses that have the potential to infiltrate your devices, access your data, and corrupt files.
We neither sell our attendees list to non-attendees in exchange for money nor give fraud assurances of providing you with the contact details of other attendees. If someone does, you know what to do — reach out to us!
If something ever feels spammy, do not hesitate to share it with us. Contact us by filling out the form, and let us do the rest. Education 2.0 Conference's team will review the issue and report the scammers to the higher authorities as we can't let this happen at the cost of our reputation.
Join us in our fight against these spammers, and help us report as many of them as possible. We look forward to your help and cooperation.
Be Our Scam Reviewer!
Report scam incidents to the Education 2.0 Conference team and let's make sure that nobody else faces this ever again. Are you in this with us?
Please provide us with the following information.